Best web hosting companies in Nigeria. Need a reliable, cheap, and best web hosting company in Nigeria to blog or put your products and services for your small business on the internet? It is very important to consider reliable web hosting providers before building a website. However, in order to keep sales and keep customer relationships running downtown.
Web hosting company in Nigeria is different in terms of services rendered compared to website hosting providers in the United States and in Europe. In Nigeria, it is important to check for the uptime of a website hosting provider. In other words, most web hosting companies in Nigeria don't inform the public about this.
You may ask, What are the cheapest web-hosting providers in Nigeria? We have a handpicked for you to choose from based on personal experience and that of close colleagues, I have taken the time to list out the most reliable, cheapest, and best web hosting companies in Nigeria.
5 Reliable Web Hosting Providers in Nigeria
What Is Web Hosting?
In the short term, web hosting is storage space on the web for storing files such as pictures, videos, information, and content that make up the website about your business. It is usually a paid rented space on a high-processing remote computer provided by the web hosting company. There are many web hosting companies in Nigeria out there to host your website.
In this article, we have a reliable handpicked for you to pick from the best web hosting companies in Nigeria that will render a reliable hosting service any time of the day. Before that, why is a reliable web hosting important?
---
Importance Of A Good Web Hosting Providers
Speed
One of the vital functions of a website is speed. A fast website starts with a fast web hosting server, as a result, a good web hosting company should perform well against Google's Core Web Vital which is very important for every successful website. Therefore, in selecting one of the best web hosting companies in Nigeria, look for a host that responds fast.
Security
Security is one of the importance of good web hosting to consider for website building. However, a breach in a website can create a gateway for intruders into the website database which can be frustrating. This process can make the owner of the website to lose vital information stored on the database because you won't be in charge of data security anymore. Web hosting and website security should be considered very seriously and should not be overlooked. It is usually only thought of once it's too late. Therefore proper security measures should be put in place at the first instance. 
Bandwidth And Storage
A 'Storage' capacity of a web hosting refers to the amount of content such as images, files, and data that can be stored on the host's servers. While the 'bandwidth' on the other hand is how much data can flow through from the server. This has an impact on speed and visitor numbers. Naturally, we want the highest storage and bandwidth within reason.
Customer Service Support
In addition, considering a security breach on your website, good and reliable customer service support can do the magic to recover your data back seamlessly. It may be due to a technical error from the server that needs urgent attention, or a personal mishandling of the program files like editing the site's code which can completely bring down the entire website. In any of the above issues that arise, a dedicated support team from your hosting company will be a big lifesaver. In other words, a good support team plays a big role in rating the best web hosting companies in Nigeria.
Reliability
Website use for woo-commerce (selling goods and services) or for generating leads often needs reliable web hosting to keep the website running without downtime. In other words, a minute offline may cause a loss of revenue for the business. Similarly, a good hosting company ensures to keep your website running always and keep it from being affected by some hosting-based error in the server. In rating the best hosting companies in Nigeria, they not only resolve issues that may occur but also ensure similar errors do not happen in the future.
Backup
Site content backup is very essential for every website owner. Unfortunate accidents do occur causing the loss of website files missing. For instance, virus attacks or you might accidentally delete some information or probably an attack from hackers trying to hijack your website. However, a WordPress backup method is one of the best solutions to recover a hacked site back. A good web hosting provider should help have a full database backed up every 24 hours. Not all web hosting services have a backup system so is of great advantage if the hosting services include backup.
So, here is a list of the best web hosting service providers in Nigeria. Some basic futures includes web hosting with cPanel dashboard, SSL, domain name registration, email services, and web hosting for WordPress. Without further delay, here are the top 5 best web hosting companies in Nigeria.
Best Web Hosting Companies in Nigeria | 5 Reliable Web Hosting Providers in Nigeria
Truehost makes our number 1 best web hosting company in Nigeria. One of the major features is their unlimited bandwidth transfer at a very low cost. Aside from that, they are a reliable web hosting company. They offer services such as domain name registration, cheap web hosting services, WordPress hosting, dedicated email hosting, dedicated support service, SSL certificates, VPS, and dedicated server hosting.
Their uptime percentage of 99.9% is not guaranteed (based on experience). The payment process is fast and easy, through bank transfer, bank deposit, and online ATM card payments (Flutterwave). Truehost provide good technical support services to resolve issues within minutes. Order now to host your website.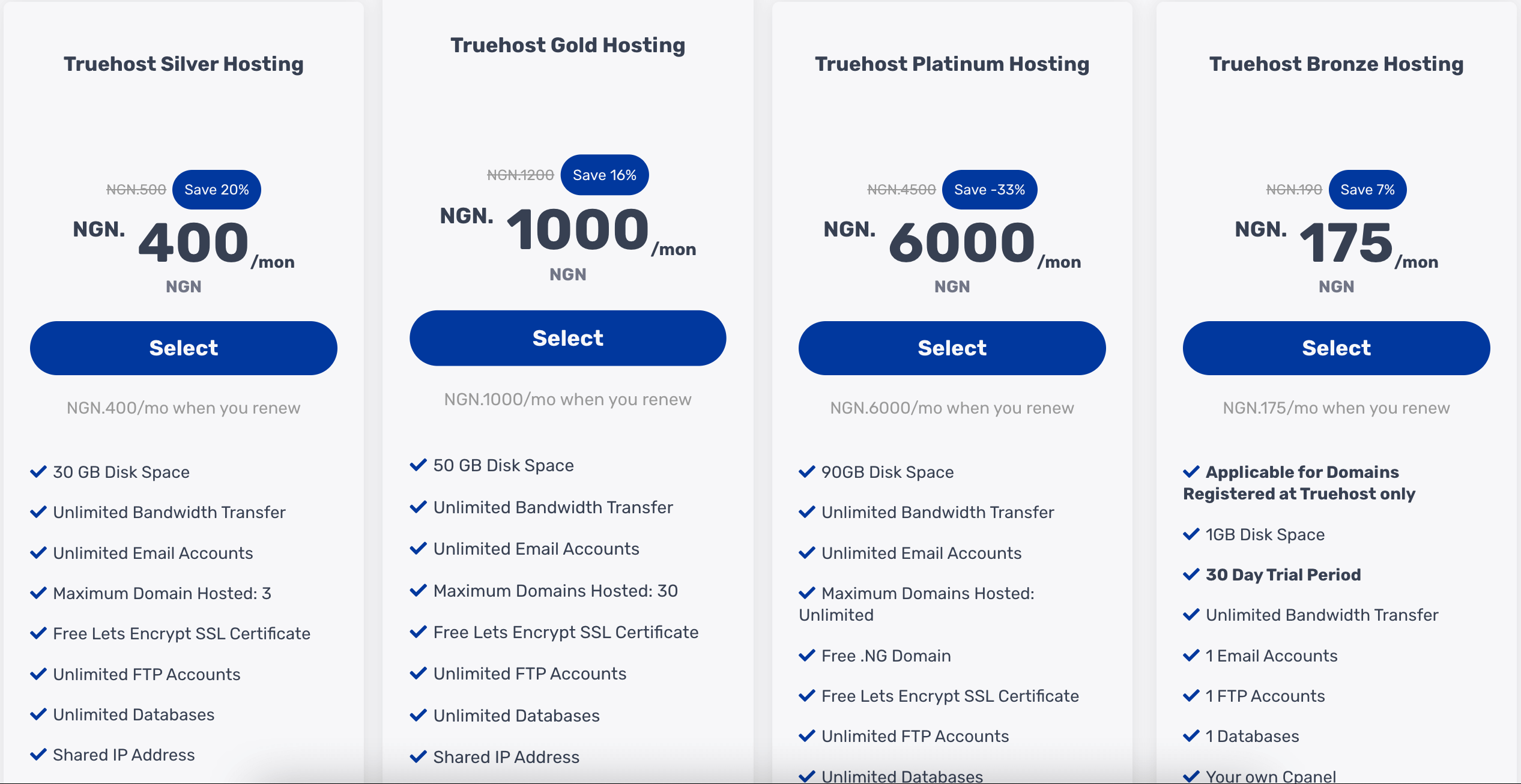 DomainRacer is one of the world's leading web hosting providers. It is known for providing the cheapest plans with the greatest offerings in the web hosting industry. Now, you can buy low-price Cpanel web hosting servers and easily start an online WordPress website with domainracer company. They provide hosting services like Shared hosting, Reseller hosting, VPS hosting, Dedicated Server hosting, LMS hosting, and Application hosting – WordPress, PHP, MySQL, E-commerce, web developer, Node.js, Magento, etc.
DomainRacer covers almost every location for servers in the world. That includes the USA, UK, Singapore, India, Germany, France, and Canada. They provide the best security features with ImunifyAV+, Imunify360, ModSecurity, PYXSoft, DDoS protection, email spam protection, magic spam protection, and Firewall
They have free SSL certificates for you with every hosting plan you purchase. That will give your site a security layer. This cheap Linux VPS hosting provides the best processors that perform KVM-based VPS server websites. DomainRacer has a 1-click Softaculous script that will help you to install 450+ applications. And they have 1000+ themes in their free website builder that will be useful to build a website.
DomainRacer provides the following features with your plans:
Unlimited SSD storage space
Free SEO default tool.
24/7 customer support
Free weekly JetBackup
Unlimited bandwidth
HTTP3/QUIC protocols
Free SSL certificate
21x Ultra-fast LiteSpeed technology
1-Click softaculous script
99.99% Uptime guarantee
Whenever you face difficulty in web hosting whether it be casual or technical DomainRacer has covered you with 24/7 support via Chat, Email, Call, Ticket and WhatsApp. Even more, they have free guidance resources via blogs, FAQs, and videos for you which will help you to understand things deeply.
DomainRacer has done an amazing job by providing its own search engine which will help you to find your answers. And by being an official partner of OPSSheild which will add more to your security as you will get free access to their security tool CPGuard.
Qservers is one of the most reliable web hosting companies in Nigeria. Their services include domain name registration, web hosting services, SSL security, VPS, and dedicated server hosting. They are located at 14 Allen Avenue. Ikeja, Lagos.
Qservers provide a free .com.ng domain on any plan but their bandwidth transfers are limited. Their uptime percentage is 99.9%. Their technical support team is superb and fast to respond to issues. They have flexible payment methods, through online ATM cards (Interswitch), bank transfers, and also deposits.
Qservers is one of the best web hosting provider companies in Nigeria. Order now to host your website.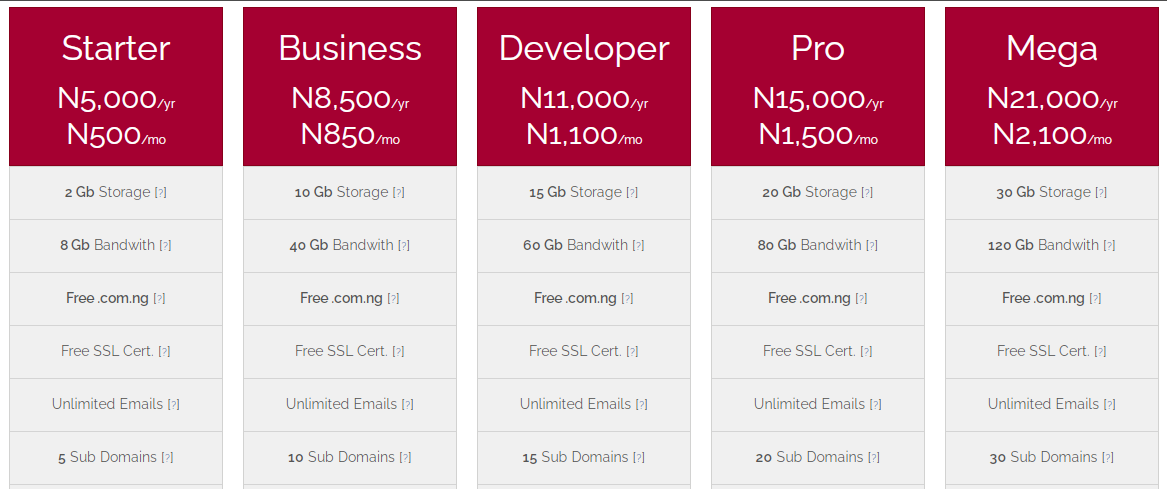 DomainKing is one of the best web hosting companies in Nigeria. They serve domain and web hosting services at a budget-friendly price. DomainKing provides dedicated server hosting with 99.9% uptime and Unmetered Bandwidth. However, they provide dedicated customer support to assist in resolving issues. Expand your online business at a low-cost today.
BlueHost is the best web hosting provider in the world. They were named by WordPress.org the best web hosting company. talking about the best web hosting companies in Nigeria, BlueHost is beyond web hosting providers in Nigeria, they are the world's best hosting service provider.
That is to say, their web hosting services are outstanding, from a light speed hosting to a dedicated 24/7 support team, one-click WordPress installation, free SSL certificate, MOJO marketplace to install apps, a free domain name, cPanel, with $175 in free advertising credits all with a very affordable price.
Their basic plan starts at just $2.65/mo which is very cheap considering BlueHost is the most highly rated web hosting company in the world today.
If you consider hosting a large website such as woo-commerce (online shopping site), you need speed, security, and a great user experience for your clients, BlueHost is a guaranteed web hosting in Nigeria.
---
Conclusion
In conclusion, choosing a reliable best web hosting company in Nigeria for your online presence is very essential for your small business. Things to consider in choosing a web hosting provider include uptime, bandwidth, price, support team, and reliability. Also, picking the right hosting plan will give access to the necessary allocation of resources to keep your business website loading faster and reliably for your visitors.
So, here is our pick for the best web hosting companies in Nigeria; if you are starting a small business or blogging with a meager budget to start your web hosting, we recommend "TrueHost is the cheapest best web hosting provider in Nigeria with unlimited bandwidth"
For an average business or blogging website with a large number of visitors, we recommend "That QServers is the most reliable web hosting company in Nigeria."
For a large business such as an online shopping website like Jumia, we strongly recommend "BlueHost is the best web hosting company in the world"
So, there you have it! we hope we are able to help you pick the best web hosting for your business/blog website. If you need a web developer for your business, visit our Contact Us NOW
Do you have any experience using any other web hosting provider not mentioned above? If you have a contrary experience to the one mentioned above, please share your experience with us using the comment box below!